In case you didn't attend, one of the biggest platforms in the social media space held a conference to discuss key platform updates and trends. Pinterest Presents gathered legendary speakers to give marketers a glimpse into everything they need to go big on the app this year. Although this event has already happened, the Agency Vista team has compiled everything you need to know to stay up-to-date.
Hear the latest updates before anyone else:
Brand new product announcements
Shopping opportunities for Pinterest merchants in 2022
A deep dive into creators and creator monetization on Pinterest
This year's most unexpected trend predictions
Whether you are currently incorporating Pinterest as a platform for your online strategy or not, there is a huge opportunity for brands, agencies, and creators. With that being said, let's dive in to uncover everything you need to know from Pinterest Presents!
Pinterest Statistics for Marketers in 2022
Before we uncover everything you need to know from Pinterest Presents, we wanted to share with you the top Pinterest statistics in 2022:
SimilarWeb uncovered there were 1.20 billion visits to Pinterest between July 2020 and December 2020. Here are some additional key findings from SimilarWeb on Pinterest for January 2022: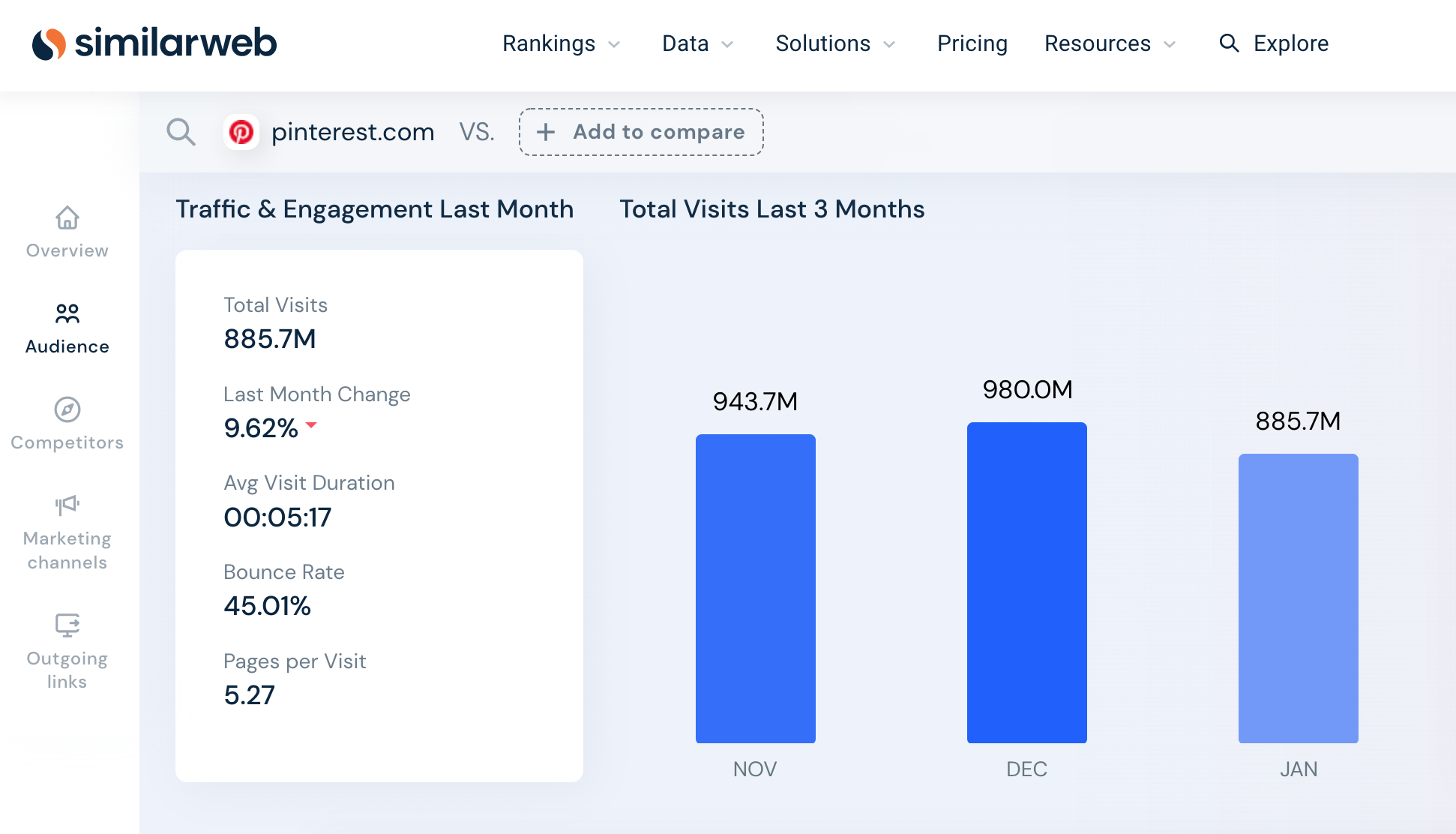 Pinterest Presents: Everything Marketers Need to Know for 2022
A more inspired internet: CEO Ben Silbermann on how Pinterest is building a different kind of internet.
Trends from the future: Trends on Pinterest are different—because they help you predict the future for your audience.
A shop for you: Shopping on Pinterest is different—because it's tuned to your taste.
Values-led creators: Creators on Pinterest are different—they're experts in getting people to try new things.
An online oasis: Find out what happens when you go beyond brand safety.
Your return on inspiration: Inspiration is different on Pinterest—it drives purchase decisions. Hear new research from Pinterest's CMO on how inspiration impacts your bottom line.
1. A more inspired internet
At Pinterest Presents CEO, Ben Silbermann, shared his beliefs and hopes for the future of the platform. They believe in providing people with a platform where they can spend more time investing in their own lives instead of scrolling through others.
At Pinterest Presents, he asked attendees these powerful questions:
Most adults spend almost half of their time on digital media, is all this time enriching us or draining us?
Is it moving us towards a life we love or distracting us from it?
Silbermann wants Pinterest to be a place where people discover themselves with the help of the most inspiring brands and creators. He mentions that they are building a different kind of platform, and rightfully so, Pinterest doesn't fall within one typical category for a social network.
When you think of a search engine, most likely Google comes to mind, but why doesn't Pinterest? Their algorithm takes in similar ranking signals on a pin to provide the user the most relevant results based on their keywords.
How about when you hear the words "video platform," what is the first network that comes to mind? Is it YouTube? TikTok? Scheduling videos to Pinterest is quickly becoming the secret weapon to top social media managers, brands, agencies, and creators.
2. Trends from the future
Across the industry, most trend reporting looks at what has trended or what is already trending. And that means, at best, you're late. Pinterest Presents touched on how their trends look forward! People use Pinterest to plan for their future, so they have access to know what's next.
Every year Pinterest creates a not-yet-trending report that can help marketers get ahead of the competition, called Pinterest Predicts. It's packed with what they predict your audience wants for their future. These are the searches they're just starting to explore, which means that brands have a real opportunity to own the trend and help it come through for them.
A few of Pinterest's trends prediction for 2022:
Pinterest teamed up with Black Swan Data and found that Pinterest trends start earlier than trends on other platforms. Not only that, but they also grow faster and last longer than trends anywhere else on the internet.
They also announced the expansion of their trends tool so that you can now track trends globally as they change and evolve. Not only can you see Pinterest search data in real-time, but you'll also be able to organize it by the audience you're targeting.
3. A shop for you
Shoppers on Pinterest spend and buy more than shoppers on other competitive platforms. They also have 85% bigger baskets, and their total order value is higher. Your shopping list is a brand new place on the Pinterest app to browse, shop and buy inspired by you and your specific taste.
In 2022, values-based shopping has never been more important to customers. The Verified Merchant Program (or VMP) helps people on Pinterest discover and buy from vetted brands. As a verified merchant, your Pins may appear organically to people who are searching for products and shopping on Pinterest. Brands with merchant details are 16% more likely to make a sale than brands without.
Much like Instagram product tagging, Pinterest also allows businesses to tag a pin with up to eight products from your claimed website. Pinterest has developed new tools to support Pin creators in monetizing their content while also supporting brands in the promotion of their products via influencer partnerships. And the best part? Your customers can purchase items without having to leave the app!
4. Values-led creators
There is an industry-wide pattern that shows that creators are burnt out. They're tired of all the negativity on social media and dealing with constant trolls and hate. Pinterest has recognized this and puts creators at the heart of their vision.
Pinterest is the place to find creators that are both relevant and safe for your brand. The Creator Code is a obligatory set of guidelines that lives within Pinterest intended to build and educate a community around making inclusive and compassionate content.
The Creator Code outlines specific rules that users must follow on Pinterest, including:
Be kind: Ensure content doesn't insult or put others down
Check my facts: Make sure information is accurate and factual
Be aware of triggers: Practice discretion when it comes to visually sensitive content
Practice inclusion: Never intentionally exclude certain groups or communities
Do no harm: Make sure any call to action or challenge is safe
There is a unique opportunity for brands and creators to connect on collaborative relationships through Idea Pins. Idea Pins make it easier for creators to schedule and publish content directly to Pinterest. In fact, the number of Idea Pins created daily has grown by nearly 4x.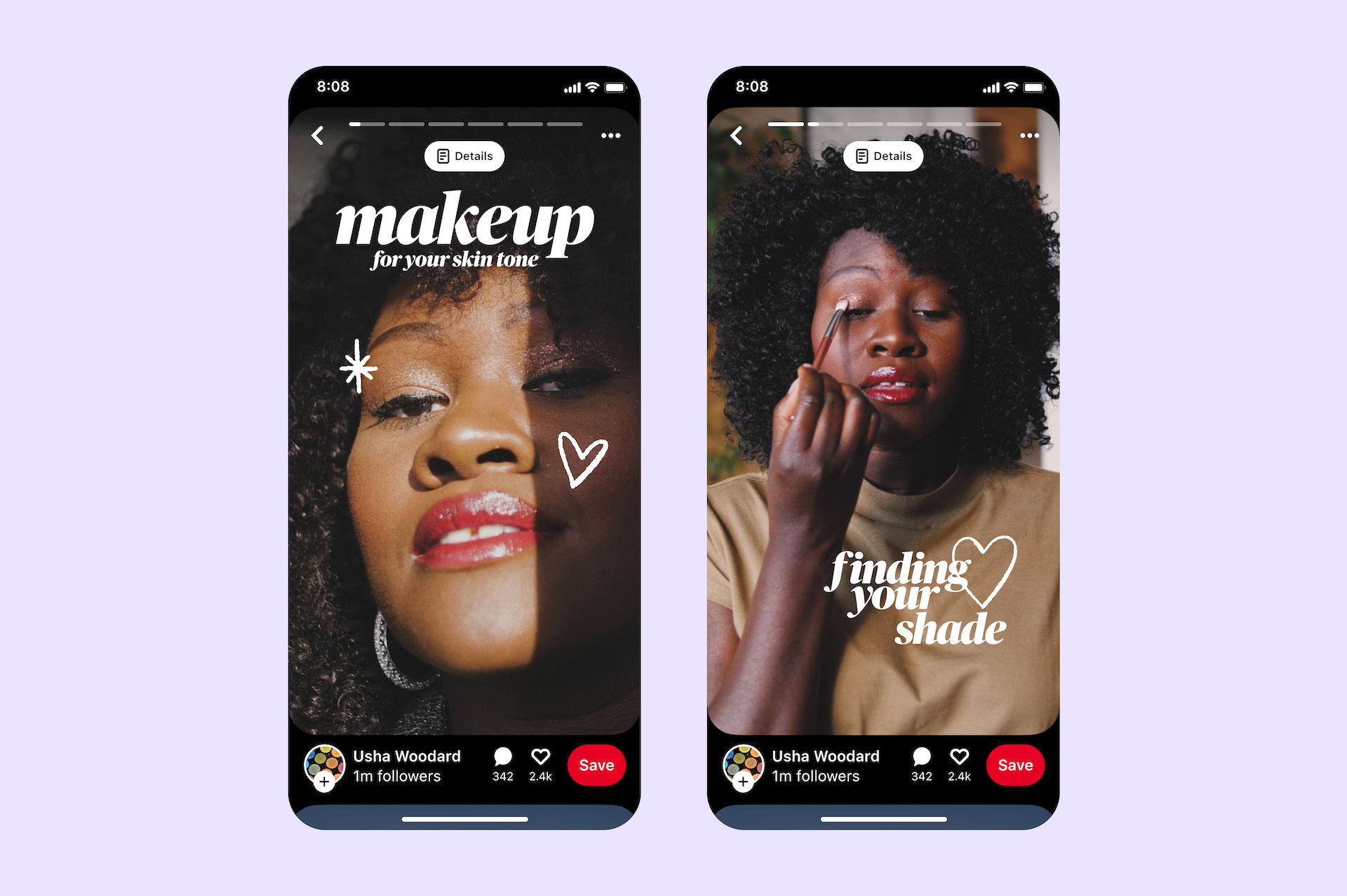 5. An online oasis
More than 80% of people say Pinterest is a place where they feel positive. Pinterest has taken many steps to ensure that the people using its platform aren't bombarded with harmful misinformation while on the app. They also uniquely don't monetize search terms related to the coronavirus pandemic.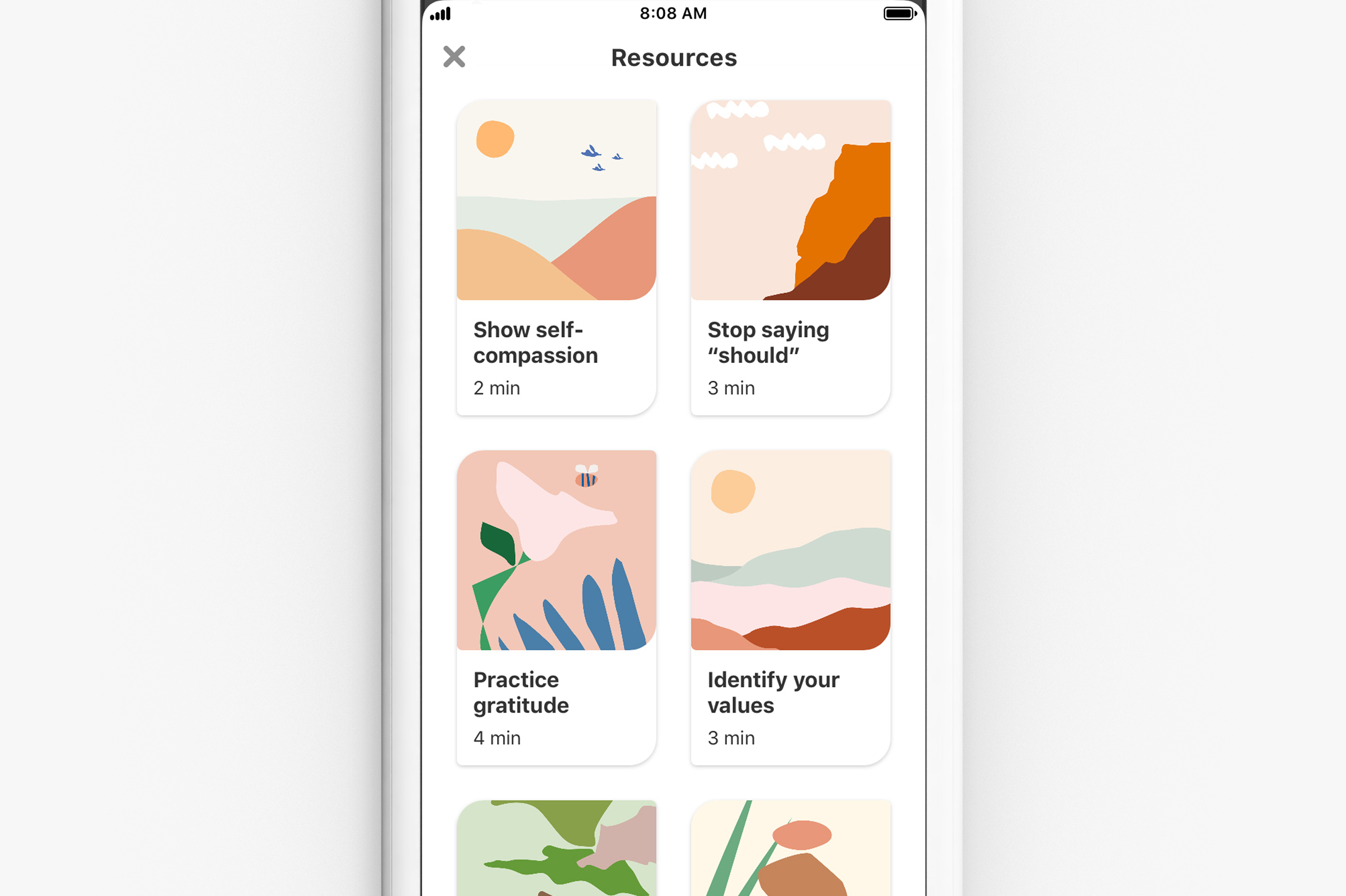 Back in 2018, Pinterest was the first platform to ban political campaign ads. They also rolled out the compassionate search as a tool for those seeking mental health support. Created by emotional health experts at the Stanford Lab for Mental Health Innovation, Brainstorm, each of the guided activities offers people interactive methods to support them in improving their mood.
Director of Business Marketing, EMEA, Visha Kudhail, closed out the online oasis with these words: we can't change the online world if we don't change the ad world first.
6. Your return on inspiration
A recent study by Nielsen found that Pinterest ranks number one in inspiration amongst all our competitor platforms. This isn't just for the internet; they rank ahead of magazines, TV shows, and all other online media giants.
To find out how people on Pinterest were using this spark of inspiration, Pinterest teamed up with FireFish to conduct a Global Inspiration Study in the US, Germany, Brazil, and Japan. Here is what they found:
People come to Pinterest to spark inspiration.
There is a second more important element of inspiration. This phase is about narrowing the inspiration. It's about clear specific ideas and action.
Inspirational environments don't just spark ideas; they move people towards decisions — purchase decisions.
On Pinterest, 97% of searches are unbranded. What this number represents is that people come to Pinterest to plan and do but haven't yet made up their minds about what to buy.
In another study between Nielsen and Pinterest, they found that Pinterest drives 10x higher branded searches off-platform. That means people come without a brand in mind but leave decided. There is a trigger moment that happens on Pinterest for users. The bottom line is that inspirational environments, like Pinterest, help people make up their minds.
Wrapping Up
Pinterest has been busy at work to provide a safe and positive online environment for its users, brands, and creators. As you can see, there are a number of features available to support their users as they move through the buyer's journey within their platform. Businesses and agencies should consider working with a Pinterest management tool to manage your profiles and conversations more effectively.